MAKING OF (BLEDI IN PROGRESS)
Making of, vise à rendre compte de la situation particulière générée par la plateforme du Workshop Bledi in Progress à Alger. Un métafilm qui dépasse l'archive filmique du document qui laisse voir l'envers du décors, le hors champ du dispositif de cet atelier et de ces enjeux. Réalisé parallèlement au projet de Workshop, un atelier de création audiovisuel d'un mois du 11 mars au 09 avril 2006.
Première semaine, initiation aux techniques et de développement des sujets, fictions, documentaires et film d'artistes. Les trois dernières semaines sont consacrées à la réalisation et au montage des projets sélectionnés. Par intermittence, des séances de visionnages de films et de vidéos d'artistes.
Cette plateforme s'est finalisée par une projection des 5 films réalisés à filmathèque Zinet à Alger.Making of, intend to reflect the specific situation generated by the Workshop Bledi in Progress I produced in Algiers in 2006. A metafilm that reveals the invisible what is behind the scenes. We fallow the production of the films of the five participants, Abdelkader Ensaad, Khaled Benaissa, Hassen Ferhani, Amina Zoubir, Guyslane Cherffedine and we get their voices on the social and political context in Algeria.
2007
20 mn Betacam
1/5 ex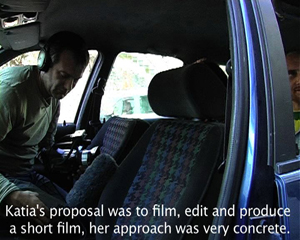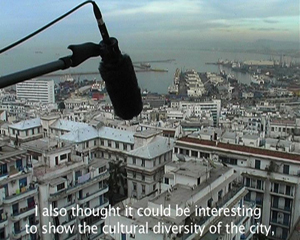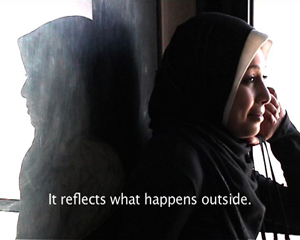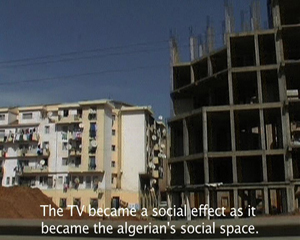 Images extraites de Making of / Images from Making of. Courtesy Katia Kameli, ADAGP